MEDICAL SPA IN GEORGETOWN & VAUGHAN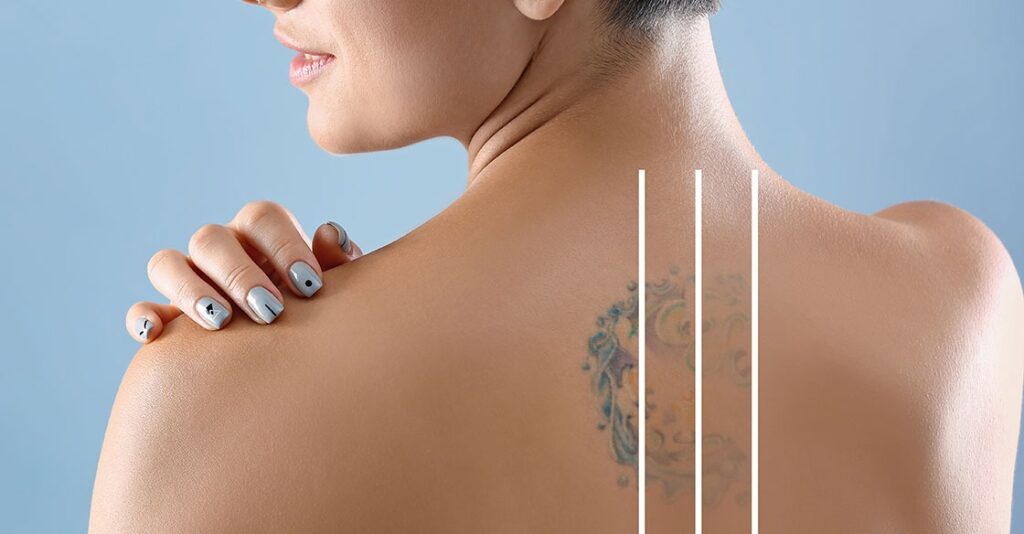 WHAT IS LASER TATTOO REMOVAL?
In the past, removing tattoos posed a formidable challenge, leaving many disappointed. However, the era of ineffective tattoo removal systems has met its match with the arrival of the Harmony XL Pro Q-Switch. Brace yourself for a safe and highly effective solution that surpasses all expectations. It stands alone as one of the few methods capable of removing dark and multicolored tattoos while minimizing the risk of skin damage to unprecedented levels.
How does the procedure work for the Harmony XL Pro Laser Tattoo Removal?
The Harmony XL Pro is equipped with a high-powered Q-switched laser that operates at two different wavelengths, specifically designed to effectively remove various colors of ink. It utilizes advanced technology to break down ink particles without causing any harm to your skin. The laser energy is delivered in short pulses, creating a Photo-Acoustic effect that specifically targets the ink, leaving your skin unharmed.
Over time, your body's natural healing processes, facilitated by the lymphatic system, will gradually eliminate the fragmented ink particles. This natural fading process allows your tattoo to fade away with minimal risk of scarring or skin discoloration, giving you the confidence to move forward.
With the Harmony XL Pro, every color of ink is treated with precision and care, as the laser adapts to the specific requirements of each shade. Whether it's darker colors or vibrant shades like red and orange, the Harmony XL Pro ensures effective removal, providing you with hope and excitement as you embark on your tattoo removal journey.
Frequently asked questions for Laser Tattoo Removal: